Saturday 12th December 2105, 3pm to 4pm
Pure Indulgence, 19-21 London Road, Stockton Heath, Warrington, WA4 6SG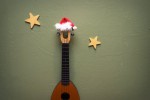 Come along to a Christmas sing-along, or twang-along, as the mood takes you! The Infernal Twangers are inviting the good people of Stockton Heath (and beyond, clearly) to join them in a raucous cheesy Christmas sing-along. Blow the dust of that ukulele in the attic and twang along with us, or just turn up to give your vocal chords a stretch and get into the Christmas mood.
Repertoire will be Winter Wonderland, Rudolph the red-nosed reindeer, Frosty the snowman & Santa Claus is coming to town, and the music and chords can be found below should you wish to practice (practice?!!) Did I mention that this will take part in the best ice-cream parlour in the north-west – lots of delicious food (savoury and sweet) available to nosh on before, after, or during our twanging. Look forward to seeing you there!
Links: